Introduction
Rapidgator.net is a Rapid File Hosting website, rapidgator.net allow you to open your account totally Free, it has an extra fast downloads option with unlimited file storage service. Rapidgator.net have the only way to download using browsers there is no direct downloads option available, what you have to do always open each link in your browser even if you are a premium user. May be sooner or later rapidgator.net starts direct download option but currently nothing like that in our vision.
 Premium Users
Steps to configure Internet Download Manager For Rapidgator.net.
1.Internet Download manager had a bug in processing cookies in its previous versions prior to 6.09, so keep in your mind if you have an old version it may not work with sharing sites, better you install the latest version Internet Download Manager 6.11 before going to configure rapidgator.net.
2. If you are a Premium Rapidgator.net user, follow the steps given below.
2.1. Open Internet Explorer any other browser whatever you use will not work for the same after opening IE log in on the site as a premium user. And check "Remember me" checkbox and press "Login". This action on the site will set cookies in Internet Explorer for you which make you able to use Internet Download Manager when you add downloads to IDM. Now close the browser but don't press "Logout" because doing this will change cookies.

If this does not work, then maybe your browser is not saving cookies. To enable saving cookies go to the options of Internet Explorer in "General" tab find Browsing History section under this press "Setting" in Temporary internet files section select "Automatically" and give the sufficient disk space.
You may also check whether cookies are set correctly or not by logging in to the rapidgator.net in your browser, if you are not automatically logged in it means your cookies are not set correctly.
2.2. Now open the link which is required to download a file in another window of your browser and press "CLICK HERE TO DOWNLOAD".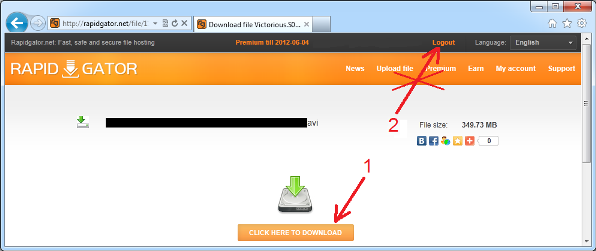 Free Users
3. If you are free user on Rapidgator.net and have a free account, you may not be able to resume required downloads. It means that you cannot use a queue.
At first you need to enable "Start downloading immediately while displaying "Download File Info" dialog" option in "Options then Downloads" dialog.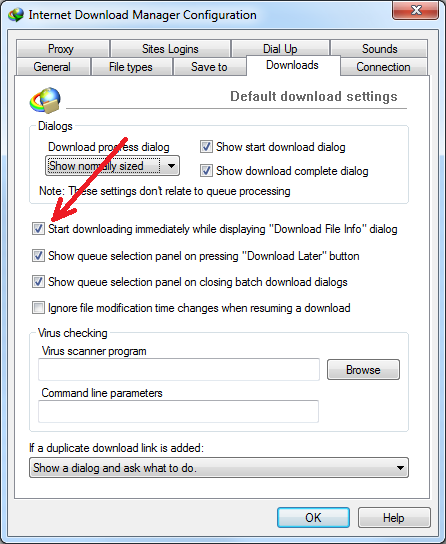 3.1 Open your browser and paste link press enter then select "SLOW SPEED DOWNLOAD":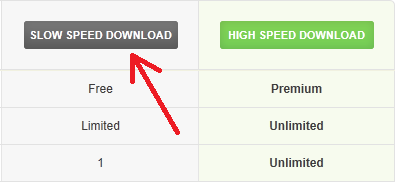 3.2 Now you will see CAPTCHA on your screen enter it.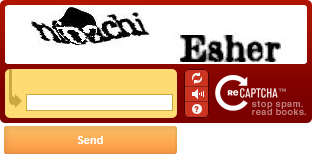 3.3 You will see a Download button don't click on it because this site permits requesting temporary download link only one time. If browser sends the first request your Internet Download Manager will not download it. So you need to right click on the button and select "Download with IDM" you may also perform the same by holding "Ins" key to start Internet Download Manager by force.

Internet Download Manager may not be configured correctly if you are using internet via proxy, or using FireFox browser. If you are using proxy you need to keep the same in your browser and Internet Download Manager in other case both ends IPs will be different and site will fail the download. A temporary link can be downloaded only from a single IP address. If you are using your browser via any Firewall or Antivirus you will have to use your Internet Download Manager using the same otherwise it won't work.
4. Register A Rapidgator Premium Account From Bellow Image: